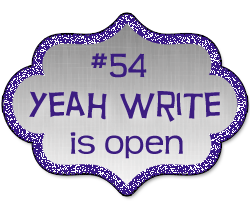 I am linking this post up with this weeks Yeah Write #54, a community for bloggers who write and writers who blog. You can go there to vote or just go there to discover some fabulous reads. Either way, I'll be happy. If you don't go there at all I may cry and I am an ugly crier.
"Hot Dogs, nachos, Frito pie!" she barked, much like a carny at the state fair. We thought her loud quirky pitch funny and so proceeded to mimic her the rest of the afternoon, randomly repeating her phrase while hunting for just the thing we had come for, whatever that might be.
Antique Alley Texas was in session this past weekend. A three-day ware fair spanning Farm to Market Road 4 beginning in downtown Grandview and continuing thirty-seven miles east to Cleburne. It is an adventure hunt for just the right treasure and almost anything can be discovered along the route within vendor spaces set up in vacant lots, front yards and street corners. Among the hodge-podge, you might find just about anything including beautiful antiques, collectibles, useless junk, delicious baked goods from the local Mennonite community, baby chicks and/or piglets and yes, even the kitchen sink. Virtually anything can and will be discovered at this twice a year community tradition.
The fact that the Antique Alley route begins in Grandview makes the event even more attractive to me.
Grandview, Texas

is a town most will never hear of unless they happen to be from one of the surrounding counties. It is a small unaffected place where not much has changed since its cotton farming past. Grandview's small population is made up of unassuming folks who are solid and true and have somehow escaped much of the world's backlash. It is the kind of town you crave when you need to escape the noise from the day-to-day as it begins to eat at your soul and your spirit needs to breathe in a bit of pure and simple clarity.
There is still only one stoplight, located right in the middle of town. If you exit the interstate, follow the road to that light and then take a right, you will be on the Antique Alley route. If you travel straight through the light going south for a mile or two, you will eventually come to where my family's road began.
When I was about fourteen, on any given Sunday afternoon, my dad was very likely to exclaim, "Let's go somewhere!" He was not the type to just sit around on a lazy Sunday afternoon. The somewhere usually ended up being a family drive to get burgers, or to check out some interesting thing he had heard or read about in the newspaper but more often than not, it would be a trip to check on the family "farm" at Grandview.
The Grandview trips were the family outings I dreaded. It was just not a place a young teen girl holed up in her room listening to vinyl Billy Joel singing about movin' out on her super cool new stereo wanted to spend time. It was boring - what was the point? But when you are fourteen and still at the mercy of your parents you don't have a choice, so you crawl into the back seat of the family Ford protesting all the while and hating every minute of it.
Once there, it was clear to me the farm was really not a farm at all, but rather a bunch of dusty old land with a rundown shack, or at least that is what my fourteen year old brain processed at the time. In reality, it was, and is,151 acres of black land prairie farmland bought by my great great grandfather, the
good reverend,
back in 1890. He built the farmhouse, the same one that stands today, although now dilapidated beyond repair.
The history of the house, the land and the people never really meant much to me until a couple of years ago, when I would occasionally drive my then ninety-year old dad in his dementia filled state back to the farm house - his boyhood home.
When we made our visits, he would spend time looking for his father who had been dead for over forty years and stupefied when he could not find him. Here was a man who could barely remember my name, but he could vaguely recall this place, the old burnt orange tractor rusting in the field, the kitchen added on in later years, the stories, the people, the value that all these things held in his heart. That is when I realized Grandview is our legacy: his, mine, my children.
I knew as I watched his gaze, that this idea I once loathed at fourteen, this place I once considered a waste of time was actually the very thing I should have been grasping hold of, for it and the people who once worked the land, those who stood on the porch, lived in the house, walked their own roads…are me. They each continue to contribute a little piece to the mix of who I am today.
The business man who now leases the property for his grazing cattle has offered to bulldoze the old house, but we just can't, not yet. Not as long as Dad is alive. We are not sure he will ever be able to return to the farm, but it just feels too soon, not right.
We all have a road to travel that gets us where we are now. Most begin down a road paved with good intentions; almost all will have a few sharp, unexpected turns. You can be sure of the road curving when you least expect it, leading you in a direction you never thought you would go and sometimes leading you right back to the beginning, right back down that Grandview road.